The Longfellow Garden
An Urban Oasis
Beautifully landscaped, with meandering paths throughout, it is free and open to the public from May through October, 10)00 am–5:00 pm.
A Family Setting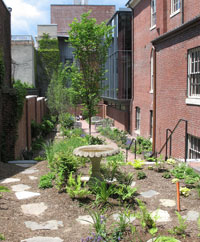 In 1784 Adjutant General Peleg Wadsworth, maternal grandfather of poet Henry Wadsworth Longfellow, purchased a lot of roughly one-and-one-half acres in Portland. Narrow but deep, it ran from Back Street (now Congress) north one-half mile to Back Cove. Three generations of the family lived in the house and kept a garden. In 1901, Henry's sister, Anne Longfellow Pierce, bequeathed the house and grounds to Maine Historical Society, with the stipulation that a library be built as a permanent home for MHS.
A New Home for Maine Historical Society
After Anne's death, MHS worked quickly to open the house as a museum, and to construct the library. Alexander Wadsworth Longfellow, Jr., a nephew of the poet, was brought on as architect, and the library opened in 1907. After moving from place to place since its founding in 1822, MHS finally had a place to call home.
Garden Club Forms
By 1924, when Pearl Wing started the Longfellow Garden Club, the garden had grown neglected, and had been surrounded by tenements, a theatre, and other new buildings. The club hired landscape architect Myron Lamb, who created a Colonial Revival style garden. The club started a fund for the garden's upkeep and has been tending it since its creation. In 1980, club members convinced MHS to open the garden to the public, instead of reserving access for those taking a tour of the Longfellow House.
Reinstallation
The garden was dismantled in 2007 to facilitate the library restoration. At that time, a lilac dating to Anne Pierce's time was removed and cared for at O'Donal's Nursery Garden Center. It has now been replanted. The garden as a whole was rehabilitated following preservation standards, and retains the character and replicates many of the plantings found in Lamb's original sketches. Visitors and locals alike are once again welcome to stroll through this beloved urban oasis.
See the Longfellow Garden Plant Identification guide.
Longfellow Garden Children's Gate
The much anticipated Children's Gate in Longfellow Garden was dedicated at 1pm on Saturday, June 2nd, 2012 following the MHS Annual Meeting. Due to the rain, the program began inside with remarks by newly appointed MHS Executive Director Steve Bromage, Richard D'Abate, MHS Board Member Noni Ames, as well as Longfellow Garden Club representatives Imelda Schaefer and Carmen Weatherbie. MHS Education Coordinator Bridget McCormick introduced a wonderful Longfellow poetry reading by two 3rd grade students from the Lyseth School, Fiona Trusty and Nathaniel Hanscom. Toasts of lemonade followed celebrating the Gate and Richard D'Abate upon his retirement. The event then moved outside as approximately 75 members and supporters stood with umbrellas in hand and cheered as Fiona and Nathaniel snipped the thick red ribbon.

The gate was originally designed by the architect Alexander Wadsworth Longfellow to honor his Uncle Henry's famous affection for children. It was installed soon after the original library opened in 1907 but was removed in the 1960s in dilapidated condition.
To recreate the Gate, Maine Historical Society embarked on a special fundraising campaign following the library renovation and Longfellow Garden restoration. This fundraising effort was initiated by a generous gift from the Longfellow Garden Club, the Olmsted Alliance (now part of MHS), the Garden Club Federation of Maine, Oakhurst Dairy and many other committed friends.
The Longfellow Garden Club continues to nurture this Portland landmark as well as the Longfellow Arboretum at Payson Park. The Club has active and supporting membership, meets monthly and hosts speakers and relevant programs. For more information please contact the garden club at LongfellowGardenClub@gmail.com or visit the Club website at www.longfellowgardenclub.org for more information.
See the Longfellow Garden Plant Identification guide.
In this section