Henry's Childhood in Portland
1807 to 1821
Henry Wadsworth Longfellow was born on February 27, 1807 in Portland, to Stephen and Zilpah Longfellow. At the time, the Longfellows were staying with Stephen's sister in a three-story, Federal style house on the corner of Fore and Hancock Streets while her husband, Captain Samuel Stephenson, was at sea. Several months later they moved into Zilpah's father's house on Congress Street. Longfellow spent his childhood there, and returned to the Congress Street home throughout his life.
Henry was the second child in what was soon to be a family of eight children. The children remembered the order of their births with a rhyme:
Stephen and Henry
Elizabeth and Anne
Alex and Mary
Ellen and Sam.
All who knew him found Henry to have a "lively imagination" as well as a thirst for learning. At three he was already well on his way to learning the alphabet. When he was five, his parents sent him to the Portland Academy, a private institution where his older brother, Stephen, was also enrolled. As was the custom for the time, the two brothers focused most of their studies on languages and literature. Always a writer at heart, when Henry wasn't in school he and his childhood friend, William Browne, planned elaborate writing projects.
Life was not all schoolwork though. His brother Samuel wrote, "In truth he was a very lively and merry boy, though of refined and quiet tastes. He did not like the 'rough and tumble' to which some of his schoolmates were given. But he joined in the ball games, kite-flying, swimming in summer; snowballing, coasting, and skating in winter." He also enjoyed visiting his paternal grandparents at their farm in Gorham, and his maternal grandparents at their farm in Hiram.
Longfellow was very young when the War of 1812 devastated Portland's economy, but the war affected him in ways both immediate and long lasting. In 1814 he wrote to his father, who was in the state Legislature in Boston, asking for a Bible for his sister and a drum for himself. Stephen Longfellow found his son "a very pretty drum, with an eagle painted on it" that cost two dollars. However, he was not able to ship it, as "They do not let any vessels go from Boston to Portland now." Many years later, in his poem "My Lost Youth" (1858), Longfellow recalls a battle that took place off the coast of Maine in 1813 between the British ship Boxer and the American Enterprise. Although the Americans were the victors, the young captains of both ships died and were buried in Portland's Eastern Cemetery, just up the street from Longfellow's house.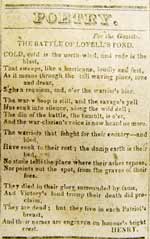 At 13 Longfellow published his first poem in the "Portland Gazette," signing it simply "HENRY." The poem, "The Battle of Lovell's Pond," was a tale of battle between colonists and Indians; it appeared on the front page of the "Gazette." There was no praise forthcoming, for no one in the family (except his sister Anne with whom he had shared his secret) realized that their Henry had written the poem. Later that evening while at a friend's house, he overheard the father say to another friend how terrible the poem was. Young Henry was devastated but it did not put a stop to his literary aspirations.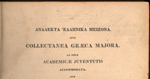 The next year, Henry passed the entrance exam for Maine's first college, Bowdoin College in Brunswick. He and his brother Stephen enrolled at the same time, although due to Henry's young age they both remained in Portland for their first year.