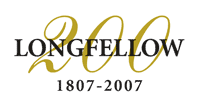 Longfellow 200: Past Events
In 2007, the Maine Historical Society and organizations around Maine hosted exhibits, lectures, trips, programs, and other events that explored Longfellow's poetry and legacy. See below for a detailed listing of events.
Saturday, February 10, 2007
Poetry Reading and Slam: Herb Coursen, Maggie Finch, Sherry Hanson
Local published poets will read and serve as judges for the poetry slam.
Saturday, February 10, 2007
Family Movie Matinee: The Midnight Ride of Paul Revere
This documentary separates fact from poetic license and explores how Longfellow created a lasting legend with his account. Readings from the poem were performed by Brian Hinds.
Event Location: Frontier restaurant and theater in Fort Andross overlooking the Androscoggin River, Brunswick, ME.
Sunday, February 11, 2007
Poets in the Community: Herb Coursen, Courtney Hill, David Adams
Local published poets read at Curtis Memorial Library.
February 12–June 4, 2007
Bowdoin College Exhibition: Of Time, Place, and Circumstance: An exhibition celebrating the bicentennial of Longfellow's birth
This exhibition featured holdings from the department's Bowdoin College Archives and Henry Wadsworth Longfellow Collection.
Friday, February 16, 2007
MHS Museum exhibit "Drawing Together: The Art of the Longfellows" opened
Tuesday, February 27, 2007 marks the two-hundredth anniversary of Henry Wadsworth Longfellow's birth. As a tribute to the poet, Maine Historical Society organized an exhibit exploring the lives of Longfellow and his family through the art they created.
Sunday, February 18, 2007
Poets in the Community: Maggie Finch, Annie Finch, Joyce Pye, Arnold Perrin
Local published poets read at Curtis Memorial Library.
Friday, February 23, 2007
Charles Calhoun and Christoph Irmscher Discussing Longfellow at 200: Why Henry Longfellow Was the Most Famous Bowdoin Graduate Ever.
Both Calhoun and Irmscher are authors of published books on Longfellow and worked together at the 2006 Maine Humanities Council Longfellow Institute sponsored by the National Endowment for the Humanities. Reception, courtesy Association of Bowdoin Friends, and 2nd floor gallery exhibit Of Time Place and Circumstance, with reading from Bowdoin students of Longfellow's student letters.
Saturday, February 24, 2007
Longfellow Family Birthday
Celebration of the 200th birthday of Henry Wadsworth Longfellow. Poetry readings, children's activities, and door prizes were followed by birthday cake for all!
Saturday, February 24, 2007
Longfellow's 200th Birthday Fete in Music and Dance
Performances by Maine's Poet Laureate, Betsy Scholl, Donald Lipfert, The Ballet School, Center Stage Players, Bowdoin College Woodwind Quintet, "The Longfellows," and more.
Saturday, February 24, 2007
Longfellow Redux author Christoph Irmscher lecture: Longfellow & Friendship
Irmscher is Professor of English at Indiana University, Bloomington and curator of a Longfellow Bicentennial Exhibition currently on view at Harvard University's Houghton Library. He lectured on Longfellow's circle of friends with an emphasis on Louis Agassiz, a Swiss–American zoologist, glaciologist, and geologist. Regarded as the most famous scientist in 19th century America, Agassiz was the first to theorize, in 1837, that the Earth had been subject to an earlier ice age. He also, disastrously, used his considerable energies to resist the influence of Darwinism in America. Irmscher is writing Agassiz's biography under a National Endowment for the Humanities fellowship. Sponsored by the Association of Bowdoin Friends.
Sunday, February 25, 2007
Tour Longfellow's home in Brunswick
Tour of Longfellow's home in Brunswick at the Joshua Chamberlain House, Maine Street and Potter.
Event Location: Joshua Chamberlain House, Maine Street and Potter, Brunswick, ME
Sunday, February 25, 2007
Poets in the Community: Anne Hammond, Jeniferlee Tucker, Robert Chute, David Matson
Local published poets read at Curtis Memorial Library.
Sunday, February 25, 2007
The Longfellow 200th Anniversary Choral Festival
A choir of nearly 100 singers from 16 community and church choruses in Maine, New Hampshire and beyond performed works by Longfellow set to music. The variety of music ranges from simple settings for solo voice to difficult, thundering choruses - humorous, reflective, dramatic, entertaining, inspirational music. 1:30 pm preconcert lecture: "Longfellow, 'America's King of Song,' and the music he inspired."
Sunday, February 25, 2007
19th Century Chapel Service
The Reverend Bradley Mitchell reflected on Longfellow's life in Brunswick. Music by Bowdoin College Brass Ensemble under the direction of Anita Jerosch. Organist Andrea Printy. Donald Lipfert reading Longfellow. Sacred dance by Moving Spirit choreographed by Peg Brightman.
Sunday, February 25 – Saturday, March 3, 2007
Longfellow Programming on Harpswell Community Television (Channel 14)
Harpswell Community Television aired a taped reading of The Village Blacksmith performed by area resident Irving Chipman, along with MP3s of Longfellow's work daily during the week of Longfellow's birthday. The program was repeated at other times throughout the year. The station can be viewed on cable channel 14 in Harpswell, Topsham, and Bowdoin and on UHF channel 14 in communities throughout the greater Casco Bay area, including Portland and Brunswick.
Tuesday, February 27, 2007
Longfellow Birthday Party and Exhibit Opening
Maine Historical Society celebrated Longfellow's 200th birthday. This event celebrated the opening of the new MHS Museum Exhibit, Drawing Together: The Arts of the Longfellows and the kick–off of the year–long celebration of Longfellow.
Tuesday, February 27, 2007
Birthday Cake and Community Poetry Read
Longfellow sidewalk plaque was unveiled. Emceed by Gary Lawless of The Gulf of Maine Books, the evening started with readings by Brunswick school children of poetry written in their classes for Longfellow Days. Following cake, adult participants read from poems or their own composition for five minutes each.
Saturday, March 3, 2007
The Story of the Acadians: Screening and Panel Discussion
Dr. Francoise Paradis, Evangeline scholar; Brenda Jepson, film maker; Dr. Layne Longfellow
Screening and panel discussion of the film The Story Of The Acadians. The film is a tale of discovery, tragedy and determination which spans the 170 year history of the French settlement of North America, and explores the history of the people that Henry Wadsworth Longfellow immortalized in his poetry. The film begins in Maine at St Croix Island in 1604, follows the settlers to Nova Scotia, and ends in France at the Acadian Line. Following the screening, there will be a panel to discuss the film and take questions.
Thursday, March 15, 2007
Longfellow Stamp Celebration and Special Cancellation
Celebration of the release of the U.S. Postal Service stamp honoring Henry Wadsworth Longfellow. Stamps were purchased and specially canceled at MHS.
Tuesday, March 27, 2007
Drawing Together: The Arts of the Longfellows
Laura Fecych Sprague, Guest Curator
Laura explored the Longfellow family's broad interest in the arts—music, painting, literature, and architecture. Henry Wadsworth Longfellow was not the only successful or artistic member of his family. His siblings, nephews, and other relatives were active and accomplished artists. Guest Curator Laura Sprague shared insights about her work on the exhibit and highlighted stories about different family members and the art they made. This was a new and different perspective on the life of Longfellow—part of our ongoing discovery and celebration of his career.
Sprague has been studying and helping care for the collections of the Maine Historical Society since 1979. She is an independent museum curator who has served since 1997 as restoration curator for the W-L House. She is the Guest Curator of our current museum exhibit. Laura is also the author of a number of important works, including Agreeable Situations: Society, Commerce, and Art in Southern Maine, 1780-1830.
Thursday, April 19, 2007
Drawn to Art: The Longfellows and the Nineteenth Century American Dream
Diana Korzenik, Painter, Author, and Historian of Art Education
Diana Korzenik, acclaimed scholar and author of the classic Drawn to Art: A Nineteenth Century American Dream (UPNE, 1985), placed the Longfellow family's enthusiasm for the Arts into the context of Art Education in nineteenth century America. Korzenik was working on a book project that explores the creative life of Fanny Appleton, an accomplished writer and artist who married the poet Henry Wadsworth Longfellow in 1843. Korzenik is the former chair of the art education department at the Massachusetts College of Art and co–author of Art Making and Education.
Tuesday, April 24, 2007
Henry Wadsworth Longfellow: America's King of Song
Charles Kaufmann, Music Director, First Parish Church, Portland
MHS hosted a talk that explored Longfellow's surprising impact and appearance in popular music over the past 150 years. Kaufmann, an accomplished musician, has found and studied an incredible trove of sheet music inspired by Longfellow. From the mid–19th century until the time of his death in 1882, composers—famous and obscure, young and old—were moved by poems written by Henry Wadsworth Longfellow. That music was the subject of a major choral program on February 25 and an exhibit at the Maine Historical Society.
Thursday, April 26, 2007
John Ford Lecture, including screening of segment of Longfellows The Village Blacksmith (1922)
Michael Connolly, Professor of History, Saint Joseph's College
Historian Michael Connolly looked at film director John Ford's Portland roots. Ford, like Longfellow, was an iconic artist who helped define our national identity through his characters and films, most notably through his Westerns. The program included a screening of the sole remaining segment of Ford's The Village Blacksmith which was based on Longfellow's poem and was one of the first films that Ford directed.