Longfellow - His Influence and Lasting Appeal
Henry Wadsworth Longfellow was one of the most famous men of the 19th century. Everyone read his poems, and his face was instantly recognizable. Many companies used his image to enhance the appeal of their products. Today, Longfellow's face and words still appear on a variety of consumer goods.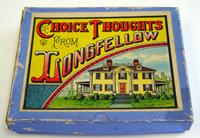 Longfellow was a man of the 19th century, but his poems were often set in the past. His first published poem, written when he was thirteen, "The Battle of Lovell's Pond," describes an 18th century battle in Maine. Later work, including "The Courtship of Miles Standish," "The Song of Hiawatha," and "Evangeline," brought rich historical events to a wide audience, creating a popular mythology for the country. (In some cases Longfellow's version of history remains the best known, if not the most accurate, account of events, as with "Paul Revere's Ride.")
View Slideshow showing more evidence of his influence.